There was controversy at the inauguration of Donald Trump over the decision of Rabbi Marvin Hier to offer an invocation. Some felt that Rabbi Hier, the Founder and Dean of the Simon Wiesenthal Center/Museum of Tolerance, should not participate, given Trump's many remarks degrading minorities, Muslims, immigrants, women, and others (not to mention his support from, and refusal to disavow, alt-right, KKK, and other racist groups and individuals). The first Jew to participate in a presidential inauguration (at the 1789 inauguration of George Washington) was Gershom Mendes Seixas, spiritual leader of New York's Congregation Shearith Israel, the first congregation established in the United States. Seixas, a self-trained hazzan (cantor), shochet (kosher slaughterer) and mohel (ritual circumciser), but not an ordained rabbi, is nonetheless known as the Patriot Rabbi of the Revolution. Which of the following is also true of Gershom Seixas?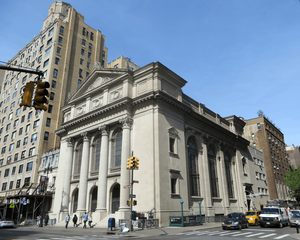 Congregation Shearith Israel by Eden, Janine and Jim is licensed under CC BY 2.0.
A. Seixas came from a distinguished family that included his brother Moses, founder of the Bank of Rhode Island and president of Touro Synagogue in Newport; his brother Abraham, a Captain in the South Carolina militia during the Revolution; his brother Benjamin, who was a founder of the New York stock exchange; and a descendent, Benjamin Cardozo, who served as a Justice of the United States Supreme Court.
B. Because he was a self-taught spiritual leader, Seixas had difficulty with Hebrew. The leaders of his congregation, Shearith Israel, fined him 5 shillings for each error he committed while chanting the Torah at Shabbat services, with a goal of spurring him to improve his language skills.
C. As the first prominent clergy to lead a synagogue in the United States, Seixas set the tone for rabbinical leadership in this country in many ways, including through his adoption of the black pulpit robe and clerical collar that was commonplace within the Christian ministry, but later became the norm for American rabbis.
D. Shortly after he became the "minister" of Shearith Israel in New York City, Seixas was asked to perform a wedding in Lancaster for the Gratz family, a prominent Jewish family in Pennsylvania. Seixas's father Isaac, concerned that his young son might not be up to this task, sent along a letter to the bride's father, reading, "Permit me Sir to recommend my son to your particular notice. He has never been so far from home, and if you find anything amiss in his behavior, impute it favourably to his want of experience, and kindly admonish him for it."
E. His connection to George Washington began when Washington's daughter, Ivanka Washington, married Gershom Seixas and converted to Judaism. Seixas not only participated in the inauguration of his father-in-law, but he joined the Washington administration as a senior adviser, in particular focusing on helping the Jews of Palestine who were suffering under the rule of the Ottoman empire. Regarding that issue, Washington said, "Ya know what, Gershom is such a good kid and he'll make a deal with Palestine and the Ottomans that no one else can — ya know he's a natural deal-maker — everyone likes him."