Renowned Argentinian football (soccer) star Diego Armando Maradona died of a heart attack last week at the age of 60. Maradona is generally considered one of the greatest soccer players of all time, and is particularly remembered for a goal he scored against England in the 1986 World Cup Quarterfinals that has been dubbed "The Hand of God" goal. He played in four World Cups, leading Argentina to victory over West Germany in 1986, and he was jointly awarded the FIFA Player of the 20th Century award along with Pele. What was Diego Maradona's connection to Jews and/or Israel?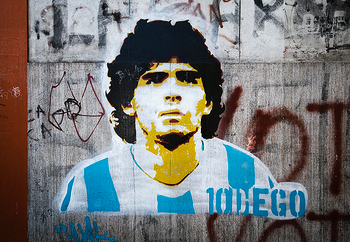 Maradona by diego vaz is licensed under CC BY-ND 2.0
A. Maradona's ancestors were Jews from Toledo, Spain, who converted to Christianity during the Spanish Inquisition. He only learned of his Jewish background in 1990 during a trip to Israel where the Argentinian soccer team defeated Israel in a match at Ramat Gan stadium. During the visit, Maradona visited the Nahum Goldmann Museum of the Jewish Diaspora (now Beit Hatfutsot: The Museum of the Jewish People) where genealogists showed him records documenting his family background.
B. Maradona first visited Israel in 1986 when he contributed two goals to Argentina's victory against Israel. He returned in 1990, again leading his team to victory, and in both of those years Argentina went on to play in the World Cup Finals. According to  Israeli sports reporter Uri Levy, Maradona considered his trips to Israel to be good luck charms. Levy stated that Maradona "...turned his visits to Israel into something superstitious. He said that every visit to Israel … will bring us a World Cup (victory)." Said Prime Minister Bibi Netanyahu in response to Maradona's passing, "On behalf of all Israeli citizens, I express my deepest condolences for the death of my dear friend."
C. In 2014, following Israel's incursion into the Gaza Strip, Maradona criticized Israel, saying "What Israel is doing to the Palestinians is shameful." He continued to be supportive of the Palestinian cause, later saying, "In my heart, I am Palestinian." Said Palestinian President Mahmoud Abbas in response to Maradona's passing, "He was a milestone in world sports, and a loving friend to Palestine and its people."
D. Maradona retired from competitive football in 1994 after failing a drug test at the World Cup Games. After retirement, he worked as a soccer coach and team executive, as well as playing in exhibition matches to raise money for charity. In 1999, Maradona played in a competition in Israel which featured handicapped Israeli and Palestinian players, raising money to send athletes to the 2000 Paralympic Games in Sydney, Australia.
E. The soccer player's birth name was Diego Armando, and he was the child of Jews whose ancestors had fled Spain during the Inquisition rather than convert. He was a standout soccer player from a young age, and in high school he played for the local Jewish soccer club, Fútbol Judíos Argentinos. At that time his outstanding playing earned him the nickname from his teammates of "Mr. God," which in Hebrew is "Mar Adonai." He later adapted the nickname as Maradona, and in 1981 he legally changed his name to Diego Armando Maradona.