British Prime Minister Boris Johnson is in political trouble, as he once again was caught violating governmental COVID restrictions. Since the pandemic began, there have been numerous incidents where the Prime Minister and his staff were found to have been partying at his official residence. Among the latest revelations are that Johnson and his staff have held weekly "wine-time Fridays" throughout the pandemic, including right before the funeral of Prince Philip. Johnson has apologized for the incidents, dubbed Partygate, which are now part of an official investigation, but he has so far refused calls for his resignation. What did Prime Minister Johnson do recently that got negative reaction in the Jewish community?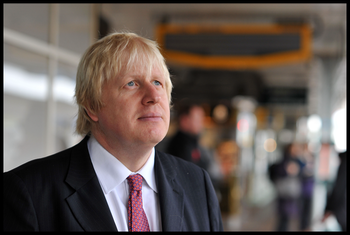 Boris Johnson by BackBoris2012 Campaign Team is licensed under CC BY-ND 2.0
A. Prime Minister Johnson was invited to speak on a Friday night at London's historic Central Synagogue. As Johnson spoke from the bima following services, his cellphone rang, which he proceeded to answer mid-speech. Congregants were stunned to hear him say into the phone, "I can't speak now. I'm talking to the Jews."
B. At a Chanukkah celebration sponsored by the Conservative Friends for Israel organization, Boris Johnson was presented a menorah, which he proceeded to wave in the air like a trophy, causing pieces of the menorah to go flying.
C. Photos were published last month in the tabloid newspaper The Daily Mirror showing Johnson and some friends and aides seated without masks at a table which was covered with wine bottles, dreidels and money. This Dreidelgate scandal has led to calls within the Jewish community for his resignation, especially since it was reported that Johnson took the entire pot after spinning a shin, claiming that COVID dreidel rules were the opposite of the regular rules of the game.
D. Johnson recently visited the Chassidic neighborhood of Stamford Hill in London. As he was walking through the area, he came upon a crowd of Chassidic men surrounding a young child sitting in a chair. The 3-year-old boy was about to get his first haircut at the upsherin ceremony, but Johnson yelled out, "Don't do it. Look at me. I have pride in my long hair. Let that boy be like me, a bloody proud Englishman!"
E. Ed Miliband was the Leader of the Labour Party from 2010-2015. Miliband, son of Polish Jewish immigrants, was often at odds with Boris Johnson, who served as Mayor of London during that time. A tape recently emerged of Johnson speaking to his political advisors about Miliband in 2014, where he said, "I don't like that shmegegge. I want to launch a campaign to get rid of him, but what shall I call it? By George–I think I've got it. Shmeg-exit! That's what I'll call it."