Mad Magazine cartoonist Al Jaffee retired this month at age 99. Jaffee, the son of Lithuanian Jewish immigrants, was one of a cadre of mostly Jewish humorists, writers, and cartoonists known as the "usual gang of idiots" who filled the pages of the satirical magazine since its founding in 1952. Jaffee was particularly known for creating the Fold-ins (based on Playboy Magazine's Fold-outs) as well as the "Snappy Answers to Stupid Questions" feature. He was a major contributor to the magazine's Jewish ethos, which included the use of Yiddish and faux-Yiddish words such as furshlugginer, farshimmelt, and Potrzebie (possibly based on the insult "putz-rebbe"), as well as the use of Yiddish phrases, such as when the Superman spoof character Superduperman uttered the words, "Shazoom? Vas ist das Shazoom?" In addition to working for Mad Magazine for 65 years, what other magazine did Al Jaffee write for?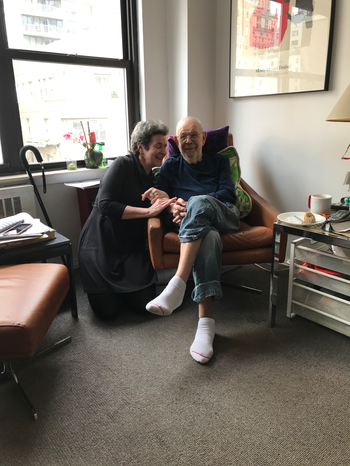 With Al Jaffee by Karen Green is licensed under CC BY-SA 2.0.
A. The Chabad children's magazine The Moshiach Times, where he wrote a regular column called "The Shpy."
B. Good Housekeeping, where he illustrated a column called "The Bad Housekeeping Seal of Disapproval." Based on the magazine's seal of approval, this column featured items that were rated as failures by the magazine's testing panel, and included a Jaffee illustration of a seal spitting on the failed product.
C. National Lampoon, where he wrote and illustrated a monthly feature called "Jew/No Jew," featuring celebrities and their Jewish backgrounds (whether or not the celebrity was actually Jewish).
D. Two Pence, a British humor and satire magazine that was based on Mad Magazine.
E. Trump, a glossy humor and satire magazine that folded after two issues.