Governor Andrew Cuomo was seen as a voice of reason and calm during the early days of the pandemic, especially at a time when President Trump was offering practically no leadership at all regarding this crisis. Lately, however, Governor Cuomo is being seen in a different light as two former aides have accused him of sexual harrassment. Cuomo has denied the claims, and an independent investigation will likely take place under the auspices of the New York attorney general and the chief judge of the state court of appeals. Governor Cuomo once said "It was ugly. It was ugly. I'll tell you the truth." What was he referring to?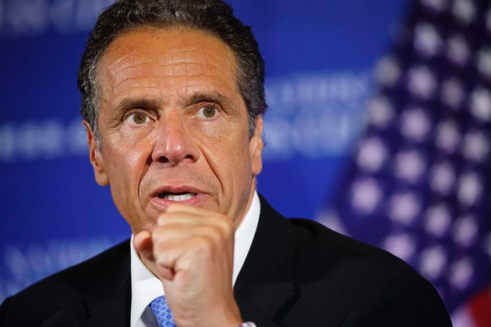 Governor Andrew Cuomo by AP Photo/Jacquelyn Martin is in the public domain
A. When Governor Cuomo was attempting to get the Orthodox community to follow state guidelines for public gatherings during the COVID pandemic, most leaders in the Orthodox community simply ignored him. However, Heshy Tischler, the Borough Park Orthodox activist and talk show host, verbally attacked Cuomo on his radio show, saying among other things that the Catholic Cuomo had "no clue what it was really like to be religious," thus leading to Cuomo's comment.
B. Andrew Cuomo was speaking about a trip he made to Israel in 2015. He had visited the Western Wall, and happened to be there when a group of Orthodox Jews began protesting a women's minyan and Torah reading that was taking place in the women's section. Cuomo was referring to the men who were yelling and throwing eggs, water bottles, and other objects across the dividing wall towards the women.
C. In 1991, Cuomo was serving as the chair of the New York City Homeless Commission in the David Dinkins administration. His comments were in response to the Crown Heights riot which occurred in August of that year. At that time Black residents in Brooklyn attacked Chassidic Jews in response to an auto accident where two Guyanese immigrant children were struck by a car whose passenger was the Lubavitch Rebbe Menachem Mendel Schneerson.
D. Governor Cuomo was the main speaker at an event at the Mount Neboh Baptist Church in Harlem in 2018. During his talk, Cuomo made the comments about Democratic consultant and Orthodox Rabbi Hank Sheinkopf, who was sitting in the front row. Cuomo was specifically referring to Sheikopf's dancing, as Sheinkopf moved to the music that was playing in the church.
E. Cuomo was referring to the first time he attended a Passover seder, specifically when they served a food he had never seen before, the gefilte fish.