Attorney F. Lee Bailey died last week. Bailey gained fame for defending a wide range of controversial figures, including The Boston Strangler, Patty Hearst, and O. J. Simpson. He brought a very theatrical presence into the courtroom, and advocated strongly for his clients with a focus on the concept of reasonable doubt. What did Bailey say that offended many in the Jewish community?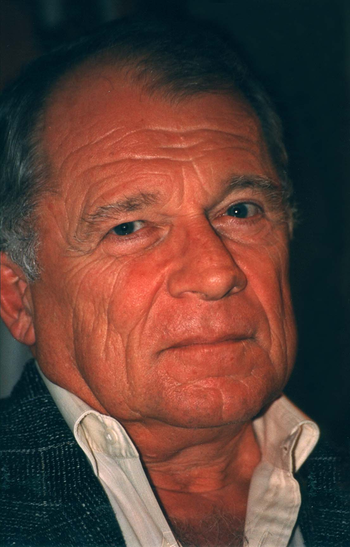 F. Lee Bailey famed Lawyer by John Mathew Smith is licensed under CC BY-SA 2.0
A. In a 2019 podcast interview, Bailey blamed Hollywood Jews for promoting an anti-O. J. Simpson narrative, stating, "And in Hollywood, if you do a portrayal that's favorable to O.J. Simpson we won't fund it. So some of the people who claim that most of their lives they've been subjected to horrible kinds of prejudice, and indeed extermination during World War II, are now behaving in exactly the same totalitarian spirit by suppressing...an unfettered free press."
B. In a 2011 interview about Patty Hearst, Bailey referenced her grandfather, William Randolph Hearst, the famous newspaper publisher. Said Bailey, "I still think it's a miscarriage of justice that Patty Hearst was convicted. But I'm glad her grandfather wasn't around when this happened. Patty was kidnapped by a gang of revolutionaries that hated America. William Randolph Hearst popularized the phrase 'America First' in his newspapers. He loved this country, not like those thugs." Many Jews took offense at this statement, as the America First movement of the middle 20th century opposed aid to those countries who were fighting against the Nazis.
C. Bailey's first notable case was that of Dr. Sam Sheppard. Late one night in 1954, Sheppard's wife was bludgeoned to death in their home. While Dr. Sheppard claimed to have been awakened by noise and knocked unconscious by the perpetrator, he was charged with the crime and convicted in a case that received extensive and inflammatory coverage in the media, including an editorial in the Cleveland Press prior to Sheppard's arrest which was titled, "Why Isn't Sam Sheppard in Jail?" Bailey (not Sheppard's original attorney) eventually took over as his lawyer, appealing the case to the Supreme Court, which overturned the conviction based on the inability of Sheppard to get a fair trial given the biased media coverage. In a 1972 Wall Street Journal interview, Bailey said, "The elites who control the media long got away with wielding their power indiscriminately and to their own advantage. I'm glad that the Supreme Court stood up to them and freed Dr. Sheppard, a good Christian man who suffered such a great tragedy." Bailey was criticized by the Anti-Defamation League for his reference to "media elites," a common anti-Semitic trope.
D. In March 1968, American soldiers fighting in Viet Nam participated in what became known as the My Lai massacre, the mass murder of unarmed South Vietnamese citizens. Bailey represented Captain Ernest Lou Medina who was the commanding officer of the unit responsible for the murders. Bailey argued in Medina's 1971 court martial trial that the massacre was the independent action of the soldiers, not a command from Captain Medina, and the officer was acquitted of all charges. In a 1981 interview in Time Magazine, Bailey stated, "My Lai was a terrible event, but let's keep it in perspective. It's not like the Holocaust. A few hundred people were killed." He was criticized by the Simon Wiesenthal Center, which issued a statement saying "While the Holocaust was a unique evil in history, no one should reference the Holocaust to diminish other crimes against humanity."
E. Bailey was one of many defense attorneys for O. J. Simpson, along with Alan Dershowitz, Johnnie Cochran, Robert Kardashian, and others. Bailey was reported to have complained about the body odor noticeable in the room when the lawyers met to discuss strategy. When asked who he thought was the problem, Bailey replied, "If you smell the shvitz, it's Dershowitz."