Lawyer and professor Alan Dershowitz has spent much of his career defending controversial figures, including O. J. Simpson, Claus von Bülow, Patty Hearst, Mike Tyson, Leona Helmsley, Harvey Weinstein, Jeffrey Epstein, and now Donald Trump. He has also been a staunch defender of Israel and advocate for Jewish causes. Professor Dershowitz was scheduled to participate in a mock trial; however, the hosts canceled the event. What were the circumstances?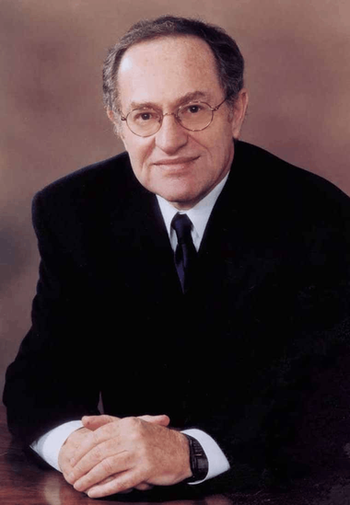 Alan Dershowitz by The Huntington is licensed under CC BY 2.0.
A. In 1995, Dershowitz was scheduled to participate in a mock trial at New York's Central Synagogue entitled "If the Tefillin Don't Fit, You Must Acquit: Should Abraham Have Killed his Bound Son?" based on the Biblical story of Abraham preparing to sacrifice his beloved son Isaac upon God's command. However, the event was called off when it was announced that Dershowitz had joined the legal team defending O. J. Simpson against charges of killing his wife. A spokesman for the synagogue said, "In the interest of not conflating the story of O. J. Simpson with our forefather Abraham, we have concluded that it is best to cancel this mock trial."
B. In December 2019, Dershowitz was scheduled to participate in a mock trial at The Great Synagogue of Jerusalem entitled "Be My, Be My Bibi: Should Benjamin Netanyahu's Indictments Be Quashed?" Dershowitz issued a statement in advance of the mock trial, saying that the Israeli attorney general "completely failed to meet that high constitutional standard and, therefore, it would be unconstitutional to remove a president based on the allegations that were made against them in the articles of impeachment." When told that his comments must be referring to the impeachment of President Trump rather than the indictment of Prime Minister Netanyahu, Dershowitz said, "Trump. Bibi. Harvey. OJ. Claus. Jeffrey. They're all the same to me."
C. In August 2019, Dershowitz was scheduled to participate in a mock trial at New York's Temple Emanu-El entitled "The Charges: Kidnaping and Child Trafficking" based on the Biblical story of Joseph, whose brothers kidnapped him and sold him into slavery. Dershowitz was going to serve as the defense attorney for Joseph's brothers, defending their actions against Joseph. The event was canceled, however, after Jeffrey Epstein committed suicide. Dershowitz had previously defended Epstein, helping him secure a beneficial plea deal to charges of sexually abusing young girls, and it was decided that Dershowitz's role in this mock trial defending kidnaping and child trafficking would be problematic, to say the least.
D. In April 2019, Dershowitz was scheduled to participate in a mock trial at New York's B'nai Jeshurun synagogue entitled, "The Thousand Songs of Solomon: Should the 1000 Wives and Concubines of Solomon Disqualify Him as Israel's Greatest King?". Dershowitz's role was to defend King Solomon, arguing that all of Solomon's relationships were voluntary, and that this was the nature of male/female relationships during that Biblical era. The event was canceled, however, when Dershowitz joined the legal defense team for Hollywood producer Harvey Weinstein, who has been accused of sexual assault by more than 100 women. Said Dershowitz upon learning of the cancellation, "Mr. Weinstein and King Solomon both deserve the best defense possible, and I was prepared to do so for both. However, I will continue to defend Mr. Weinstein, and I will leave it to others to defend King Solomon."
E. In early January 2020, Dershowitz was scheduled to participate in a mock trial at Washington D.C.'s Sixth & I synagogue entitled "It's a Family Affair: Was Jacob Right to Steal His Brother's Birthright?". Dershowitz had submitted his opening argument for the mock trial to the synagogue for use in their publicity: "There is no question but that Jacob did the right thing, and there is no doubt that his father Isaac rightly enabled Jacob to carry out his deception." However, shortly before the mock trial, Dershowitz, in preparation for his defense of President Trump, said, "There is no question but that Hunter Biden did the wrong thing, and there is no doubt that his father Joe Biden wrongly enabled Hunter to carry out his deception." At which point the synagogue canceled the mock trial, saying, "Oy vey, what were we thinking? Instead of a mock trial, please join us for a chicken dinner and screening of the movie Fiddler on the Roof."