One of the traditions of Shavuot is the all night Torah study session known as the Tikkun Leil Shavuot, meaning Rectification (or Repair) for Shavuot Night. What are the roots of this custom?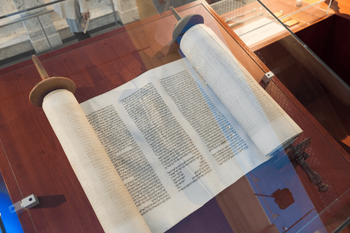 Torah scroll by Thomas Quine is licensed under CC BY 2.0.
A. The practice of the Tikkun Leil Shavuot was put forth by Rabbi Isaac Luria in the sixteenth century in Safed. Luria developed a specific text known as the Tikkun Leil Shavuot which comprised written, oral, and mystical aspects of the Torah, and was recited overnight until dawn.
B. Moses ben Maimon, the Jewish philosopher and scholar known as Maimonides and also as the Rambam, taught that not only was the Torah revealed at Mt. Sinai, but also the Oral Law, the subsequent interpretations of Torah. Based on this teaching, the Rambam established the Tikkun Leil Shavuot as an all night Torah study in recognition of the immensity of the task of studying Torah.
C. Solomon ben Moses HaLevi Alkabetz, a renowned rabbi and Kabbalist, and Joseph Karo, author of the codification of Jewish law known as the Shulchan Aruch, were contemporaries in the late 1400's and early 1500's, who studied and lectured together in Turkey. Inspired by their mystical discussions, Karo developed the custom of staying awake all night on Shavuot to study Torah, and called this session the Tikkun Leil Shavuot.
D. Moses Mendelssohn was a German Jewish philosopher who was a leader in the Haskalah movement, known as the Jewish enlightenment. In the spirit of that movement, Mendelssohn was a critic of the traditional rabbis, claiming that Jewish knowledge was not their exclusive domain, and that anyone could study Torah. In 1758 in Berlin, he held the first Tikkun Leil Shavuot, an all night study session which was open to the entire Jewish community. While many rabbis at the time objected and would not participate, as the Haskalah movement grew among the Jewish population, the Tikkun was eventually accepted by the rabbinic community.
E. According to the Midrash, on the morning that Moses was supposed to go up to Mt. Sinai to receive the Torah, the Israelites overslept. As a result, Moses was almost late to get to the top of the mountain, much to God's dismay. The tradition of staying up all night to study Torah is a way for the Jews to atone for that error.