In a rare move, President Donald Trump backed down from one of his highly-criticized plans—to hold next year's G-7 meeting at Trump National Doral, one of his many hotel/resorts world-wide. The plan was seen as a violation of the emoluments clause of the Constitution, which prohibits government officials from receiving money and gifts from foreign governments. Trump has previously been denounced for maintaining his ownership and/or control over many golf resorts, hotels, and other facilities, all potentially a violation of that clause. The Trump International Hotel in Washington, DC recently instituted a change to make that property more attractive to Jews. What was that change?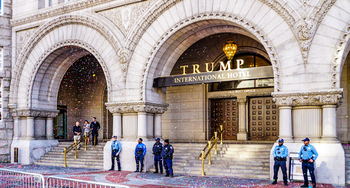 WERK for Consent by Ted Eytan is licensed under CC BY-SA 2.0.
A. The hotel set up one of its elevators as a Shabbat elevator, which is programmed to stop at every floor, enabling religious Jews to ride up and down on the Sabbath without violating rules about the use of electricity.
B. The hotel added a kosher option to one of its restaurant menus, with prepackaged kosher meals being brought in from an area kosher caterering company, with entree prices ranging from $105-$125.
C. The hotel set aside a small meeting room in its convention center for use by Jews who wish to hold morning and evening minyan services. On Sunday morning, they also provide bagels and lox to those participating in the morning minyan.
D. The hotel replaced the Gideon Bibles in a number of their rooms with copies of the ArtScroll Stone Edition Chumash. The rooms with the Jewish bible have been designated with a Jewish star on the door.
E. In an effort to be welcoming to their Jewish guests, the hotel's Benjamin Bar & Lounge added an item to their menu which is listed as "Kosher Snacks" with the description "please inquire, you get to open your own bag!"