One of the complications of the COVID-19 pandemic is a shortage of toilet paper, which is a result of people hoarding, as well as the fact that everyone is using their home bathrooms exclusively, rather than also using bathrooms at work, or at stores, restaurants, and other public facilities. A few years ago an Israeli company, the Gefen Team, worked with Lily, an Israeli toilet paper brand that is a division of Kimberly-Clark, to produce a product to aid in the use of toilet paper. What was this product?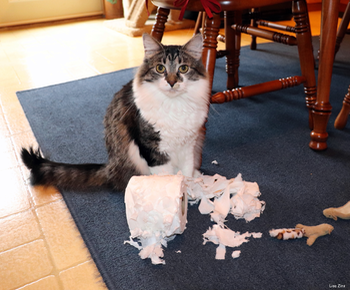 "I'm just as shocked as you are! WHO could have done such a thing?!" by Lisa Zins is licensed under CC BY 2.0.
A. They created  an internet connected toilet paper roll dispenser. The device keeps track of toilet paper use, enabling the user to generate usage reports, and also to automatically order replacement rolls of paper when needed. Users can communicate with the device using apps for iOS and Android systems.

B. They invented the Choose Your Own dispenser, a device which can hold up to three different rolls of toilet paper. This enables family members with different preferences to each use the toilet paper of his or her own choice–one ply or two, quilted, unbleached, gentle for sensitive skin, or others.

C. Toilet paper in Israel (as in many parts of the world other than the United States) is notorious for its roughness. Gefen, working with the Lily Company, developed a toilet paper dispenser that sprays a light layer of lanolin on the paper as it is dispensed, thus softening the paper and enhancing the comfort of the user. Lily determined that this was a less expensive and more environmentally friendly solution than changing production to the more expensive softer paper typically found in America.

D. They created a Shabbat toilet paper dispenser, which is internet-enabled, allowing it to keep track of the onset and end of Shabbat throughout the year. As a result, once Shabbat begins, the device will automatically tear and dispense the paper, enabling the Orthodox user to avoid the Sabbath prohibition against tearing. The device also keeps track of daylight savings time clock changeover, as well as Jewish holidays, and can be set to Israeli or Diaspora schedules, to accommodate the user's practice regarding the second day of Chagim (holidays).
E. In response to a toilet paper shortage in Israel a few years ago because of a manufacturing plant fire at the Lily Company, they developed a toilet paper dispenser called TP-Yomi. The dispenser only provides one sheet of toilet paper per day, assuring that the toilet paper supply will last 7-1/2 years.