The Star Spangled Banner, America's national anthem, has been in the news in recent years as NFL quarterback Colin Kaepernick, and then others, have chosen not to stand during its playing at athletic events as a political statement. Last week, President Donald Trump suggested that NFL owners should fire players who participate in these protest actions. Hatikvah, the Israeli national anthem, was first selected as the Zionist anthem at the First Zionist Congress in 1897. From that time until the present, the song has been surrounded by controversy. Today many Arab citizens of Israel are not comfortable singing the anthem, which refers to the two thousand year old dream to be free people in the land of Zion, an aspiration which does not speak to many Israeli citizens of non-Jewish descent. Hebrew University announced a few months ago that it would not play Hatikvah at its graduation ceremony out of "consideration for the other side," a reference to the university's Arab community. Which of the following reflect Hatikvah-centered controversies?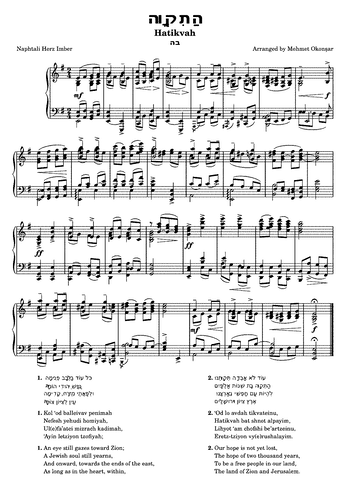 Hatikvah is licensed under CC BY-SA 4.0.
A. Religious Zionists objected to Hatikvah because the song makes no reference to God. Rabbi Abraham Isaac Kook, considered to be the "father" of religious Zionism, composed a poem, Ha-Emunah, (The Faith), referencing a "return to our holy land" where "we shall serve our God," which was suggested as an alternative song, but Hatikvah maintained its position as the official Zionist anthem.
B. Theodor Herzl and others were supportive of using the poem Tikvatenu, written by Naftali Hertz Imber, as the anthem for the Zionist movement, but did not approve of the music to which the lyrics were matched, which was based on The Moldau, a composition by Bedřich Smetana. Smetana, a gifted composer who gave his first public performance at the age of 6, was also a Czech nationalist and known anti-Semite.
C. Theodor Herzl disliked the song Hatikvah, in part because the writer of the lyrics, Naftali Hertz Imber, was a "perpetual ne'er-do-well" and a "drunkard."
D. The early Zionist movement saw a split between those who felt that a Jewish homeland needed to be established in what was then called Palestine and those who felt that location was not the key, rather it was necessary to find any place where Jews could live safely. Advocates of the latter proposed such locations as Uganda, Buffalo, and Argentina, among others. This faction of the Zionist movement objected to the selection of Hatikvah as their anthem because of the lyrics which read, "To be a free people in our land, The land of Zion and Jerusalem," with the belief that adopting the song with this geographic reference would lessen the likelihood of success in establishing a Jewish homeland in an alternate location.
E. In 1993, actress Roseanne Barr traveled to Israel to see her daughter Jessica participate as a soccer player representing the United States in the Maccabiah games. Barr was invited to sing Hatikvah at the beginning of the match between her daughter's U.S. team and the competing Israeli team. Her rendition was loud, out-of-tune, and extremely shrieky, and ended with Barr grabbing her crotch. The next day, Israeli Prime Minister Yitzhak Rabin, who had attended the game, was quoted as saying, "I have been a Zionist my entire life, and everything I have ever done was guided by the Zionist motto, 'Im tirtzu, ein zo agada,' 'If you will it, it is not a dream.' But no matter how hard I try, I am unable to will myself to unhear and unsee that disturbing rendition of Hatikvah."