Will Smith is currently starring as the Genie in a live-action remake of Disney's Aladdin. What is a Jewish connection in Will Smith's life?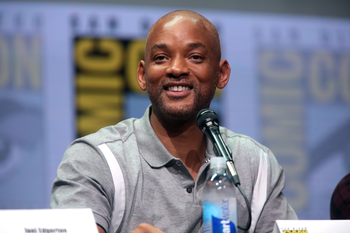 Will Smith by Gage Skidmore is licensed under CC BY-SA 2.0.
A. Smith grew up in West Philadelphia's Wynnefield neighborhood, an area with a large Jewish population. When Smith first began rapping under the name The Fresh Prince, he often performed at the bar mitzvahs of his Jewish school friends.
B. Smith is a winner of the Simon Wiesenthal Center's Humanitarian award for his commitment to education, cultural diversity, and social responsibility. The award was presented to him by actress Charlize Theron, who was Smith's co-star in the movie Hancock.
C. While filming Aladdin in Jordan in 2017, Smith and his wife took a side trip to Jerusalem, where he was filmed saying, "I'm chilling by the Western Wall" before crashing the Torah reading of a boy making his bar mitzvah there.
D. Will Smith was born and raised in Philadelphia. When Smith was a child, his father was employed as a janitor at Congregation B'nai Abraham, one of the oldest synagogues in Philadelphia. Smith credits his father's relationship with the synagogue and its rabbi and members as the reason why he has always felt a closeness to the Jewish people and Israel.
E. One of Smith's first film appearances was in Men in Black, directed by Barry Sonnenfeld. When Sonnenfeld's son Sam had his bar mitzvah at Temple Beth Am in the Westwood neighborhood of Los Angeles, Smith attended and feted the teen with a rap which included the following lines: I pulled up to the shul about nine, kine-ahora/And I yelled to the rabbi 'Yo homes let's do some torah/I chanted my parsha/It was totally the bomb/Then I sat on my throne as the Mitz of Beth Am.