A video entitled "A Storm is Brewing in Rockland" was recently posted on Facebook and has generated a lot of discussion in Rockland County, New York and beyond. What is the video about?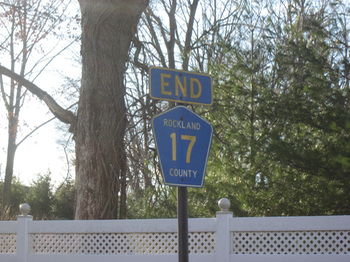 Rockland County Route 17 - New York by Doug Kerr is licensed under CC BY-SA 2.0.
A. It is a video made by the New City Jewish Center, a reform congregation, warning about the planned creation of an eruv, or religious boundary, around their town, which is the county seat of Rockland County. The eruv has been proposed by members of the Orthodox community, who want to make it easier for religious Jews to live in the area. The eruv, for example, will enable observant women to push baby strollers around the town on the Sabbath. But reform and other Jews fear that it will lead to a larger Orthodox community, followed by pressure on local businesses to close on Shabbat, as well as the establishment of new synagogues and yeshivas, taking current buildings off the tax rolls.
B. It is a video made by the Rockland County Democratic party, warning about the growth of the Chassidic community, evoking fear of "religious homophobia" and sexism that might lead to gender-segregated hours at the community pools, libraries, and parks as well as job discrimination against gays, and bans on gay bars. The video was taken down after being denounced by many as anti-Semitic, including Governor Mario Cuomo who said, "This type of attack and incitement against the Chassidic community is the very definition of discrimination and anti-Semitism."
C. It is a film by the Anti-Defamation League's New York office, detailing the growth of anti-Semitism in Rockland County. According to the ADL, the Proud Boys, an extreme right wing organization, recently established a chapter in Haverstraw in the conservative northern part of the county, at a time when there has been a record number of anti-Semitic acts committed in Rockland County.
D. It is a video made by the Rockland County Republican party, warning about the growth of the Chassidic community, evoking fear of "chaotic development" and redistricting that would be a threat to "our homes, our families, our schools, our communities, our water, our way of life." The video was taken down after being denounced by many as anti-Semitic, including Governor Mario Cuomo who said, "There is no excuse for anti-Semitism masquerading as concerns over zoning or development."
E. It is a video produced by the Vaad Hakashrus of Rockland County. The film focuses on the opening of a local Starbucks that has been advertising itself as a kosher establishment. Said Rabbi Gevalia Bar-Ista of the Vaad HaKashrus, "What's brewing at this Starbucks is anything but kosher. They would not tell us who gave them kosher certification. When we asked their manager what makes the store kosher, he replied, 'We have chai latte. Ain't that enough?' "