[Note: We will be on vacation Monday, October 27, and will return with our next weekly Jewish trivia quiz on Monday, November 3.]
31 years before Sandy Koufax skipped a World Series game because it conflicted with Yom Kippur, Detroit Tigers slugger Hank Greenberg made a similar decision when the Tigers played a crucial pennant race game against the New York Yankees on Yom Kippur. What was one way in which Greenberg's decision not to play on Yom Kippur was publicly noted?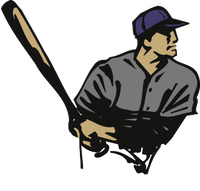 A. The Jewish Federation of Metropolitan Detroit erected a statue on the grounds of the Jewish Community Center of Metropolitan Detroit depicting Greenberg wearing a yarmulke and tallit, with a baseball bat lying on the ground beside him.
B. Poet Edgar Guest wrote a poem which read in part:
Came Yom Kippur - holy fast day wide world over to the Jew - 
And Hank Greenberg to his teaching and the old tradition true 
Spent the day among his people and he didn't come to play
Said Murphy to Mulrooney, 'We shall lose the game today!
We shall miss him in the infield and shall miss him at the bat,
But he's true to his religion - and I honor him for that!
C. Poet Dr. Seuss wrote a poem which read in part:
I am Hank.
Hank I am.
I do not eat green eggs and ham.
I'm a Jew,
A Jew for sure.
I will not play on Yom Kippur.
D. The Tigers lost the Yom Kippur game to the Yankees. Some very angry Tiger fans publicly expressed their feelings regarding Greenberg's decision by spray painting the walls of Navin Field (as Tiger Stadium was called at that time) with anti-Semitic graffiti.
E. Because of his professional success and his decision not to play on the holy day of Yom Kippur, Greenberg was the first athlete selected for induction into the National Jewish Sports Hall of Fame in Commack, New York.