Actress Carol Channing, best known for playing the role of Dolly Levi in Hello Dolly more than 4500 times in her career, died last week at the age of 97. Channing was raised as a Christian Scientist, though she later discovered that her mother was Jewish. She learned Yiddish fluently from her first husband's grandfather, Sam Cohen. Which of the following details another time she interacted with the Jewish community?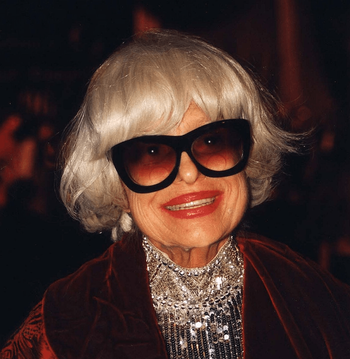 Carol Channing by John Mathew Smith is licensed under CC BY-SA 2.0.
A. In 1964, Channing sang a version of Hello Dolly rewritten as Hello Lyndon, which President Lyndon Johnson used on the campaign trail. In fact, this was her second recreation of that song for a politician, as she sang Shalom David for Israeli Prime Minister David Ben-Gurion earlier in 1964, at a celebration in his honor hosted by the United Israel Appeal organization in New York, following Ben-Gurion's retirement from government at the end of 1963.
B. Channing was known for her voice, her big eyes, and platinum blonde hair. Though she performed in her real hair early in her career, over time the constant dying and teasing damaged her hair, and she eventually began wearing a wig. A hair and makeup artist who worked with Channing during Hello Dolly directed her to Claire Grunwald of Claire Accuhair in Midwood, Brooklyn. Almost all of Claire's client base was Orthodox women who must wear wigs in public to maintain modesty. Grunwald and Channing became very good friends, with Channing attending Passover seders and other holiday celebrations at Claire's apartment.
C. Carol Channing had one son, with her second husband Alex Carson. That son, named Channing, was not raised Jewish. However, he learned that his mother was in fact Jewish (by virtue of the fact that her mother, Adelaide Glaser was Jewish), and that therefore he too was Jewish. He had many Jewish friends in school, and eventually decided he wanted to have a bar mitzvah. Channing respected his wishes, and her son had a bar mitzvah at Central Synagogue in New York, followed by a party at Sardi's Restaurant.
D. At Temple Israel in Hollywood, the tradition was to announce, just before the start of Yom Kippur services, that the reserved seats up front which were not occupied would now be available for anyone to sit in. One year, Carol Channing attended services there, and the rabbi had her make that announcement from the bima. One congregant complained out loud, "The nerve of them! Bringing in a Carol Channing impersonator — and for the High Holidays!"
E. Channing's first lead role on Broadway was in the musical Gentlemen Prefer Blondes, where she sang the song Diamonds Are A Girl's Best Friend. To promote the show, the producers set up a stage on 47th Street in the heart of New York's Diamond District, and Channing would appear daily and sing that song. Chassidim who worked in many of the diamond businesses there began disrupting the events saying that it was improper for religious men to hear a woman sing. Not wanting to end the show promotion, the producers convinced the Chassidim that this was actually a Carol Channing impersonator in drag, so the prohibition against hearing a woman sing did not apply. Satisfied, the Chassidim instead joined in, dancing the hora as "she" sang.