The Academy Award for Best Movie went to Green Book, a film about black musician Don Shirley, who toured through the Jim Crow South in the 1940's, and his relationship with his bodyguard/driver, a white Italian from New York named Tony Vallelonga. The movie title refers to an annual series of guidebooks called The Negro Motorist Green-Book, published from 1936-1966, providing information to black travelers as to where they could safely find meals, lodging, and other support during an era when there was much legal and de facto segregation and discrimination. What is the Jewish connection to the actual Green Book?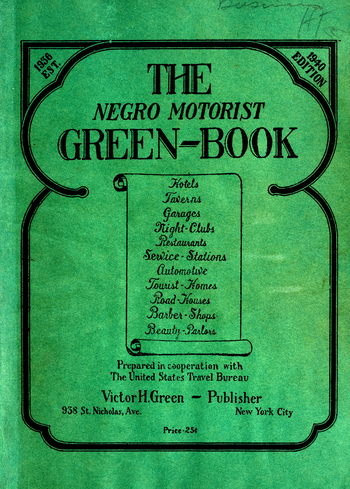 The_Negro_Motorist_Green_Book Wikipedia article on The Negro Motorist Green-Book, 1936-1966 by jalexartis Photography is licensed under CC BY 2.0.
A. While the Green Book was eventually supported by ad sales from many of the businesses listed in the book, initially the Green Book was funded largely by the Julius Rosenwald Fund, a philanthropy established by Julius Rosenwald, one of the owners of Sears-Roebuck, and a supporter of many black causes, including thousands of Rosenwald schools which he created to provide education to poor and rural black children.
B. The Green Book was created by Pastor Victor Hugo Green from the Upper Harlem AME Zion Church. He was inspired by his reading of the Old Testament. "I learned that as the Israelites fled Egypt and crossed the Red Sea, they found themselves wandering through the desert for 40 years. They were surrounded by enemies–Hittites, Amorites, Canaanites, Jebusites, and so many others. And how did they know which way to turn to avoid destruction and find the Promised Land? Because God told them where they could travel safely across the desert. In effect, he gave them The Jewish Desert Wanderers Blue and White Book, and that inspired me to create The Negro Motorist Green Book to help keep my people safe in their travels."
C. The Green Book was created by a New York mailman named Victor Hugo Green, who contacted other black mailmen around the country for input. He was inspired to create the guidebook after learning from a Jewish friend about guidebooks geared to Jews travelling in the Catskills. These books helped Jewish travelers locate kosher meals or find other businesses that were friendly to Jews at a time when there was much anti-Semitic discrimination.
D. The Green Book was started by Victor Hugo Green, a black man in Harlem who worked at a local Orthodox synagogue as the Shabbos goy, turning on lights and the heating system on the Sabbath and Jewish holidays. He mentioned his idea to the rabbi, who connected him to other synagogues where he corresponded with their Shabbos Goys, sharing information about "black-friendly" businesses in their area that would be included in the guide.
E. The Green Book was written by Victor Hugo Green, a black man who worked as a dish washer at Ratner's, the famous kosher dairy restaurant on New York's Lower East Side. Green learned from Jewish waiters of a book called the Levine Book, written by a local matchmaker named Yente Levine. The Levine Book was described as a guide for Jewish parents who were looking to find nice Jewish boys for their daughters. The book guaranteed to help Jewish parents know where to go in New York City to find a Chasan (a groom), without fear of coming upon goyim who might not be welcoming. Said Green in an interview years later, "Our people didn't need help finding spouses, but we did need helping knowing where to shop, dine and travel, without fear of being unwelcomed. That's how I got the idea for my Green Book."