Protests are erupting in Israel and throughout the Jewish world as a result of the detention of a Conservative rabbi in Haifa by Israeli police, in response to a rabbinical court order. The Haifa Rabbinic Court charged the rabbi with "marrying those who are not eligible to be married." Israeli laws do not allow for civil marriage, and Jewish couples can generally only be married by Orthodox rabbis upon certification that they are both Jewish and eligible to be married (for example, divorcées can only marry upon proof of a religious divorce, or get). Most Israelis who do not want a religious marriage, or do not qualify, choose to get married in Cyprus, as marriages performed outside of the country are recognized by the State of Israel. What other option has occasionally been utilized by Israeli Jews who choose not to or cannot be married under Orthodox religious court auspices?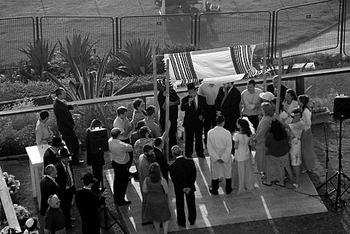 A Jewish Wedding by moshebar is licensed under CC BY 2.0.
A. Some couples who are not eligible for Jewish marriages in Israel will get married by religious authorities from other religions (Muslim or Christian). This requires the couple to claim to be followers of that religion (by birth or conversion); however, unlike in Judaism, there is not a system of verification in place, so those religious leaders will sometimes perform these weddings, which do result in a marriage recognized by Israeli law.
B. There is still a small community of Samaritans in Israel, who trace their roots to the Samaritans of the Bible, descendants of Ephraim and Menashe. Marriage in the Samaritan community in Biblical times resulted from an agreement between the fathers of the prospective bride and groom. The rabbinical rules governing marriage were not in place at that time, and the Samaritan community continues its tradition even today. As a result, some Israelis have claimed membership in the Samaritan community (a lineage which is not easily proved or disproved, and therefore accepted by Israeli religious authorities), allowing the couple to be wed so long as they have written approval by both fathers.
C. Some Israelis have married by proxy in Paraguay or El Salvador, countries which allow couples to marry under their laws, even though one or both members of the couple are not physically present in that country. The Israelis give power of attorney to lawyers in those countries, who then arrange for the lawful marriage, which is recognized by the State of Israel.
D. Most Jewish religious authorities follow the principle of Pikuach Nefesh, wherein the preservation of human life supersedes all other laws in Judaism. There are some Chassidic rabbis in Israel who apply that code to Jewish marriage, believing that marriage (and the subsequent children) allows for the preservation of the Jewish people. Therefore, they are willing to perform marriages which violate other religious rules, such as weddings where a proper get (religious divorce) had not been previously issued to the bride or groom, or when one of the couple is considered to be a mamzer (usually meaning he or she was born of a non-sanctioned marital relationship). Unlike Conservative or Reform rabbis whose standards are not accepted by Israeli religious courts, the authority of these Chassidic rabbis is not questioned by the rabbinic courts, so these marriages are allowed.
E. While the arrest of the Conservative rabbi indicates that the Israeli rabbinic courts hold a very high religious standard, there are some situations where the courts do allow for exceptions to Jewish marital law. One example is what is called the "Fiddler Marriage." The rabbinic courts accept and recognize the wedding of any couple who have performed the roles of Tzeitel and Motel Kamzoil in a production of Fiddler on the Roof. (This rule does not apply to couples who played the parts of Chava and Fyedka).