The United States Office of the Director of National Intelligence just released a report on the issue of unidentified aerial phenomena, colloquially called Unidentified Flying Objects, or UFOs. The document referenced 143 reports of sightings for which government scientists and military personnel could offer no explanation. At least 21 of these reports include aerial technology that is beyond our current capability or understanding, such as objects moving without observable propulsion. The report drew no conclusions about these sightings, other than that further investigation is needed. The report has greatly increased interest in UFOs and strengthened the belief of many that these objects may be from intelligent life elsewhere in the universe. Haim Eshed, the director of space programs for the Israel Ministry of Defense for nearly 30 years, gave an interview on the topic of UFOs. Eshed is considered to be the father of Israel's space program, and has won many awards, including the Israel Defense Prize (the highest civilian defense honor of the State of Israel) on three occasions. What did Eshed say regarding the possibility of life on other planets?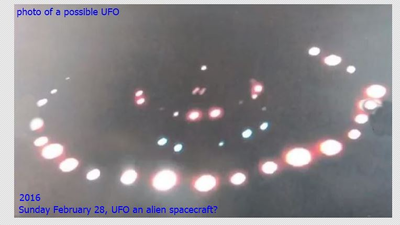 ufo  by tonynetone is licensed under CC BY 2.0
A. Eshed said that Israel has long worked cooperatively with the United States in these investigations, and he confirmed that scientists involved in Israel's space program and military are concerned about these sightings, for which there is no clear explanation. But he said, "This does not mean that aliens are about to land and take over. It just means there is more we need to learn."
B. Eshed, an Orthodox Jew, said that he has always followed the science without hesitation. But he also said that he starts from the beginning, "literally, B'reishit. In the beginning, God created the heavens and earth. It does not say earths, so I believe that we are the humanity that God created. Having said that, I also recognize that God can do anything. So if the science shows me that there are others, I will welcome them to my Shabbat table."
C. Though Eshed spoke extensively about space exploration and Israel's program, he refused to speak about the specific topic of UFOs. There are reports that at least some of the unexplained aerial craft could have been created in a joint program between Israel and the United States. Some believe that the Director of National Intelligence report was in fact designed to obfuscate the level of engineering that US and Israeli scientists have developed, in particular to fool the Russians and Chinese who are also working on this technology.
D. Eshed criticized the Director of National Intelligence report, saying that releasing the report served no good purpose, and would only fuel speculation that there were aliens visiting the planet Earth. "People have wondered about UFOs forever. What I call angels sent by God some might call space aliens. People are afraid of what they don't understand, so for the United States to announce that they don't understand these phenomena is just an invitation to panic in my opinion."
E. Eshed said that Israel and the United States have been dealing with aliens for years, that aliens and American astronauts share an underground base on Mars, and that President Trump almost revealed this secret, but the aliens, known as the Galactic Federation, convinced him that revealing their existence would lead to panic.