The Kansas City Chiefs defeated the San Francisco 49ers in Super Bowl LIV by a score of 31-20. Kansas City offensive tackle Mitchell Schwartz was the only Jewish player in this year's Super Bowl. Schwartz was drafted in 2012 by the Cleveland Browns, and he played for that team until the 2016 season, when he joined the Chiefs. His brother Geoffrey played offensive guard in the NFL from 2008-2016 for 5 different teams, making the brothers the first Jewish siblings to play professional football since Ralph and Arnold Horween played in 1923. The Schwartz brothers wrote a book in 2016, detailing their lives growing up in a Conservative Jewish family in Southern California, where Mitch says he did not start playing football until he was in 9th grade, because his parents wanted him to focus on his bar mitzvah preparation before that. What is the name of the memoir that Mitch and Geoff Schwartz wrote?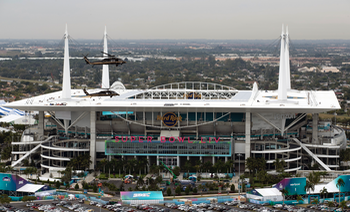 Hard Rock Stadium, site of Super Bowl LIV by CBP Photography is in the public domain.
A. Eat My Schwartz: Our Story of NFL Football, Food, Family, and Faith.
B. May the Schwartzes Be With You.
C. The Schwartz Brothers: How Two Jews Made a Kosher Relationship With a Pigskin.
D. The Schwartz Brothers: How Gedalia and Mendel Became the Toughest Jews on the Block.
E. The Schwartz Brothers: Our Double Lives with Blintzes and Blitzes, Holy Moses and Hail Mary, and Matzah Balls and Footballs.