The United States Postal Service is an independent agency whose head, the Postmaster General, is appointed by the agency's Board of Governors. The Board of Governors consists of both Democrats and Republicans who are appointed by the President. This system was devised in 1970 to ensure that the Post Office would be able to function independently of partisan political influence. However, last February Treasury Secretary Steven Mnuchin met only with the Republican members of the Board in a meeting not covered by sunshine laws because of a lack of a quorum, thus yielding no public record of the meeting. This meeting, and other subsequent meetings and actions by Mnuchin, led to the hiring of Trump megadonor Louis DeJoy as Postmaster General. DeJoy is now facing criticism for efforts to curtail USPS operations in a way which could greatly impact the processing of mail-in ballots in the November presidential election. Steve Mnuchin's great-grandfather, Aaron Mnuchin, was a diamond merchant who emigrated to the United States in 1916. What is the root of Steve Mnuchin's name?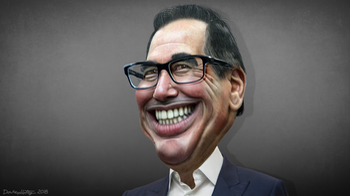 Steven Mnuchin - Caricature by DonkeyHotey is licensed under CC BY 2.0
A. The name is a variation of Mincha, which is the evening prayer which Jews recite daily.
B. The name is a variation of the Hebrew words may-Noach, meaning "descending from Noah."
C. The name is a variation of Menachem, which derives from the Hebrew word for comforter.
D. The name comes from the name Munich, as Mnuchin's family roots are in that German city.
E. The name is a variation of Munchkin, as Mnuchin's family roots are in that land over the rainbow.