What important role did Angelo Roncalli play in Catholic-Jewish relations?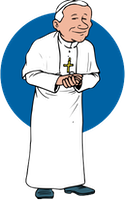 A. As Pope Paul VI, he was the first pope to visit Israel, where he met with President Zalman Shazar in 1964.
B. As a priest he was instrumental in efforts to save Jews during the Holocaust, and later, as Pope John XXIII he oversaw the Second Vatican Council, which among other things repudiated the belief that Jews were collectively responsible for the crucifixion of Jesus.
C. When diplomatic relations were established between Israel and the Vatican in 1993, Pope John Paul II appointed him as the first Apostolic Nuncio (similar to ambassador) to Israel.
D. Pope Benedict XVI appointed him as special Vatican nuncio (ambassador) to Israel in 2010. In April of that year he successfully intervened with the Italian Barilla Pasta Company to urge them not to drop their Kashrut certification, enabling Israeli Jews to end Passover with their traditional "Spaghetti Night Out" celebration.
E. As Pope John Paul II, he became the first pope to visit a synagogue, when in 1986 he made an unexpected visit to the Great Synagogue of Rome and prayed with Rabbi Elio Toaff, former Chief Rabbi of Rome.