Superman is often described as being Jewish, or at least being based on Jewish themes. Which of the following is NOT a part of that narrative?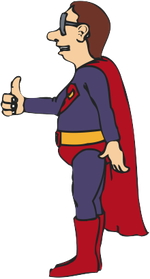 A. In order to save him, Superman's parents sent him from his home planet into space in a small capsule, paralleling the story of Moses' mother, who placed him in a basket in the Nile River to save his life.
B. Superman's mission was summed up by the words, "Truth, Justice, and the American Way," which was a variation of Rabbi Shimon ben Gamliel's statement that the world endures on three things: Justice, Truth, and Peace.
C. Superman's original name was Kal-El, which is Hebrew for Voice of G-d.
D. When Superman, as Kal-El, landed on earth, he was taken in by a kind family, the Kents, and he then lived a double life as the mild mannered Clark Kent and the hero Superman. Similarly, baby Moses was taken in by the kind Batya, daughter of the Pharaoh, and he lived an assumed life in the royal palace while later showing himself to be the hero of the Jewish people.
E. Kryptonite, the green substance that was the only thing that could harm Superman, was based on Dr. Seuss's Green Eggs and Ham.