In 1945, what did the National Jewish Welfare Board do at Passover time for soldiers serving in the military?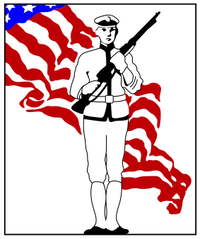 A. They arranged for the Armed Forces Radio Network to broadcast recordings of Passover songs, including The Four Questions by Sammy Davis, Jr., and Let My People Go by Artie Shaw.
B. They arranged to send matzah which was baked in the shape of a "V" for "Victory."
C. They provided Kosher for Passover KP-rations which included freeze-dried matzah balls.
D. They provided Passover Haggadahs which included a special Dayenu section, including statements such as "Had he given us victory at the Battle of the Bulge but not enabled us to conquer our foes in the Philippines, Dayenu."
E. They provided a salami for every boy in the army (and yes, if you say this right, it does rhyme).
✡  ✡  ✡  ✡  ✡  ✡  ✡  ✡  ✡
If you enjoyed this question as you prepare for Passover, then you'll be pleased to know that it's not too late to get a
FREE
RASHI, RAMBAM and
HAGGADAH-LAMADINGDONG