Prime Minister Benjamin "Bibi" Netanyahu faces a leadership battle within the Likud party following his indictment for fraud, breach of trust, and bribery. In one investigation known as Case 2000, it is alleged that Bibi pressured Sheldon Adelson, owner of the Israel Hayom newspaper, not to expand, which would benefit another newspaper, Yedioth Ahronoth, and its publisher Arnon Mozes who was also indicted. This case pits Netanyahu against Sheldon and Miriam Adelson, who were previously among Bibi's biggest supporters. Miriam Adelson, who is the current publisher of Israel Hayom, told investigators, among other things, that Sara Netanyahu complained that when Israel Hayom published a picture of her, the picture was too small. What bad consequence did Sara Netanyahu say would befall Bibi because Israel Hayom did not defend him enough?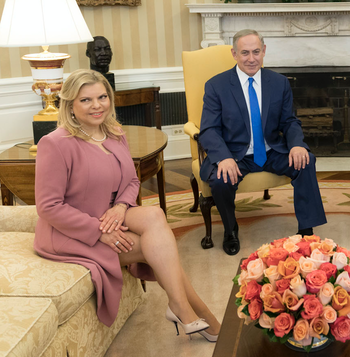 Sara and Benjamin Netanyahu

A. She stated that their lack of support would lead to Bibi's electoral defeat.
B. She complained that if Donald Trump got impeached, Bibi would be blamed for naming an Israeli town after him.
C. She said the newspaper's lack of support for Bibi would lead him to be blamed if Iran got nuclear weapons and wiped out Israel.
D. She said that because of their lack of support, Bibi would definitely be indicted.
E. She said that the paper's insufficient defense of Bibi would lead to his ouster, followed by his loss to Sean Spicer on Dancing With the Stars.