The New England Patriots were the victors against the Los Angeles Rams in Super Bowl LIII, which sports writer Jeff Pearlman (and many others) called "the worst Super Bowl ever." Wide receiver Julian Edelman, the first Jewish player to win the MVP honor in a Super Bowl, led the Patriots to victory over the Rams, also known as "the wrong team," following the infamous "non calls" of pass interference and helmet-to-helmet contact in the NFC Championship game, where the New Orleans Saints had the game stolen from them by the incompetence of the officiating crew. Michael Hurley of CBS Boston Sports said, "This was a missed call that literally took a Super Bowl trip away from the Saints." Don Van Natta Jr. of ESPN called it the "worst no-call in NFL history." Former NFL quarterback and 4-time Pro Bowler Boomer Esiason tweeted, "The @Saints got royally SCREWED!"  New Orleans is a city which is totally devoted to their football team, and that includes the local Jewish community, about 11,000 strong. What is the name of a Saints fan group within the New Orleans Jewish community?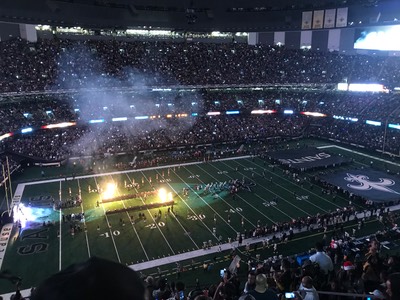 A. Drew's Jews.
B. Blue and White for Black and Gold.
C. Drew's Hebrews.
D. Jew Dat Nation.
E. Jews for Breesus.