Jewish Hollywood mogul/film producer Harvey Weinstein was fired by the Weinstein Company last week following news reports detailing multiple allegations of sexual harassment and assault. Throughout his career, Weinstein has received many awards, including the GLAAD Excellence in Media Award, the Commander of the Order of the British Empire from Great Britain, and the Chevalier (Knight) of the Ordre des Arts et des Lettres from France. He has also received much praise from celebrities, politicians, and businesspeople, including President Barack Obama, who in 2014 thanked Weinstein and his wife for "their friendship and support, and for the amazing movies that they've made." Which of the following are also examples of the praise Weinstein has received?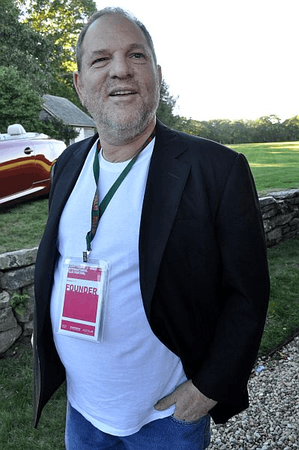 Harvey Weinstein by Nick Step is licensed under CC BY 2.0.
A. In 2005, Steve Bannon (who had previously worked in the film industry, producing such films as The Indian Runner with Sean Penn) partnered with Harvey and Bob Weinstein in a DVD distribution company, Genius Products. Said Bannon of Weinstein recently, "Harvey Weinstein taught me more than anyone about the film industry and business in general. Of course, had I known about his use of power to abuse women, I never would have had anything to do with him."
B. Weinstein was honored at the Simon Wiesenthal Center/Museum of Tolerance 2015 national tribute dinner, where fellow film industry executive Jeffrey Katzenberg offered the following words in introduction of Weinstein: "I'm going to tell you something you don't know: He's actually just a really nice Jewish boy."
C. Weinstein has been thanked by multiple Academy Award winners throughout his career. Based on speeches given by Oscar winners between 1966 and 2016, only Steven Spielberg had more mentions, with Weinstein tied with God for 2nd place. And among those praising Weinstein was Meryl Streep, who actually referred to Weinstein as God.
D. In 2013, Weinstein presented the Algemeiner newspaper's "Warrior for Truth" award to Elie Wiesel, who responded to Weinstein, saying, "You made me love films, it is only thanks to you...Because at one point you came in my life and now I like films too, especially those that you make."
E. Last week, Bill Cosby, star of The Cosby Show which was produced by the Weinstein Company, said of Harvey Weinstein, "Really? He did all that without quaaludes? I tip my hat to you, Mr. Weinstein!"