Uber founder Travis Kalanick (whose mother is Jewish, but whose religious identity is not known) resigned as CEO of the company last week, under pressure from major shareholders following a number of scandals, including reports of sexual harassment and other workplace discrimination, intellectual property lawsuits, and controversy over Kalanick's participation in Donald Trump's Strategic and Policy Forum. What Jewish-related scandal also added to the company's troubles and Kalanick's downfall?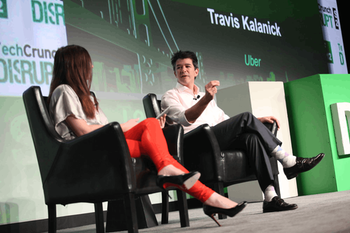 IMG_3714 by TechCrunch is licensed under CC BY 2.0.
A. Many of the company's drivers in New York are Muslim immigrants, particulary from Bangladesh and Pakistan. Many of those drivers were refusing to pick up religious Jews in Brooklyn, who they identified by their yarmulkes or black coats and long beards. At first the company responded simply by offering financial bonuses for drivers who increased their numbers of pick-ups in such neighborhoods as Borough Park and Williamsburg, where there are high concentrations of Orthodox residents. However, after reports broke on social meda, the company apologized and indicated that it would not allow any such discrimination by its drivers.
B. Uber launched in Germany in 2014. However, there was an immediate outcry from the Jewish community there when the company launched ads on Facebook, Instagram, and other social media, using the catchphrase "Über Deutschland Alles," meaning "Uber Over All Germany." The phrase was a play on the words "Deutschland über alles" from the song Deutschlandlied which was adopted as the German national anthem in 1922. While that song remains the German national anthem today, only the third verse is typically sung, avoiding the reference to Germany above all other nations, which epitomized the Third Reich government of Adolph Hitler, and which is particulary offensive to Jews who hear those words as echoing the German nationalism which led to the Holocaust.
C. In New York City, there is a very large number of Israeli Uber drivers, and this became a problem on the major Jewish holidays of Rosh Hashanah and Yom Kippur. In 2016, the first day of Rosh Hashanah fell on a Monday and Yom Kippur was on a Tuesday. Because so many of the Israeli drivers did not work on these days, Uber instituted surge pricing, which is normally enacted when there is an overabundance of demand, such as during special events or bad weather. When many regular Uber riders complained on social media that rides that are usually regular priced were unexpectedly charged at the higher rate, Uber apologized and offered refunds, saying that surge pricing should only reflect the reality of customer high demand, rather than "punishing" customers because of a shortage of drivers.
D. Uber was intending to launch in Israel in 2015. Despite opposition by the Egged and Bus cooperatives, as well as taxi and sherut shared taxi drivers, the company received a license from the Ministry of Transport to begin operations, at first in Tel Aviv, with plans to spread throughout the country. However, at the last minute, representatives of the Ultra-Orthodox parties Shas and United Torah Judaism raised objections because the Uber drivers would offer their services on Shabbat. As a result, Prime Minister Benjamin Netanyahu overruled the decision of Transport minister Yisrael Katz and prevented Uber from legally operating. In fact, taxi cabs operate in Israel on Shabbat without objection from the religious parties, and it is rumored that Shas and UTJ leaders objected to Uber because representatives of the taxi industry offered them financial incentives to pressure the Prime Minister to block this new competition.
E. In Uber's recently released diversity report, besides presenting gender, ethnic, and other demographic information about the company's workforce, there was also mention of a variety of "affinity groups" of employees, such as the Hispanic group, Los Ubers, and UberHUE, promoting Black diversity and culture. There was an outcry on social media, however, at the Jewish affinity group's description of themselves as Jewbers. Tweeted one critic, "I don't work in HR but seems if you're releasing a diversity report using the slang 'Jewbers' isn't the way to go."